Northern Ireland's rich cultural heritage has received a general improvement in awareness in recent years. Earlier this year, we highlighted lottery money towards a tour of Sandy Row. Also recently, some of Northern Ireland's most celebrated 18th and 19th century gardens received lottery cash boosts. The next project for HLF funding is to restore the last remaining Victorian era public bathhouse. The Templemore Baths opened in 1893 and the last to open in the city. Now, it is the only remaining example of its kind in Northern Ireland. That is why £5m lottery grant for Templemore is so important.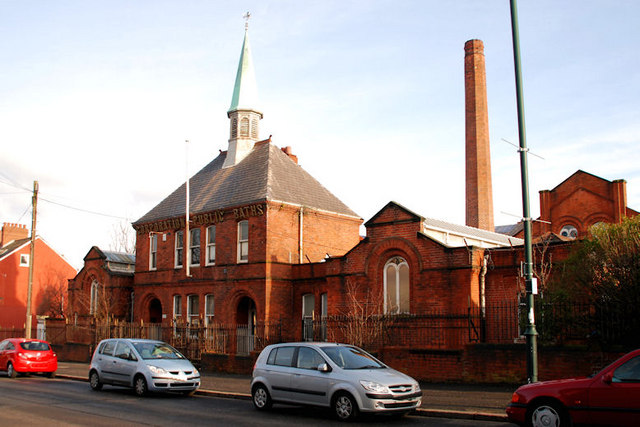 © Copyright Albert Bridge and licensed for reuse under this Creative Commons Licence.
About the Lottery Grant for Templemore
The £5m grant is certainly welcome for campaigners. Decision makers decided, following consultation, that the facility deserved protection and renovation. The lottery grant for Templemore will restore, enhance and even extend the building. Those in charge of the project insist that Templemore will return to its original uses. This included washing facilities for the new migrants attracted to working in Belfast. The late 19th century was boom time for Belfast. The city expanded in line with the development of the Harland & Wolff shipyard and engineers in the east, requiring massive civic investment.
Locals and campaigners have, for decades, campaigned to save the facilities. The lottery grant for Templemore is a dream come true for these campaigners and residents. They go back to a time when East Belfast was a thriving community with high employment. Although the building still has many uses today, some of the structure is closed. Parts of the building are dangerous whereas others are simply unsuitable. The grant should restore the building to a fully functional facility suitable for everybody. Plans include a new 25m pool and a modern gymnasium. Management expects that the facility will pay for itself, ensuring the building for future generations of users.