While most of the news focus is on lottery pandemic relief, some schemes are going ahead as normal. The Town Hall in Rochdale, arguably one of the most beautiful civic buildings in the country and Grade I listed, just received a lottery grant worth £8.3m. A programme to refurbish Rochdale Town Hall in the coming years can get underway soon, coronavirus measures permitting. As announced last week with the new lockdown in England, construction can still go ahead at present. The Town Hall will close at the end of 2020 and work will (hopefully) commence in the new year.
Local leaders praised the building's history, especially the local treasures which they say are "on a par with the Palace of Westminster."
How Will the Money Refurbish Rochdale Town Hall?
As with most modernising programmes, often features are removed for practicality and space. Sometimes historic pieces ended up in local museums. The plan to refurbish Rochdale Town Hall includes restoration of some iconic history pieces: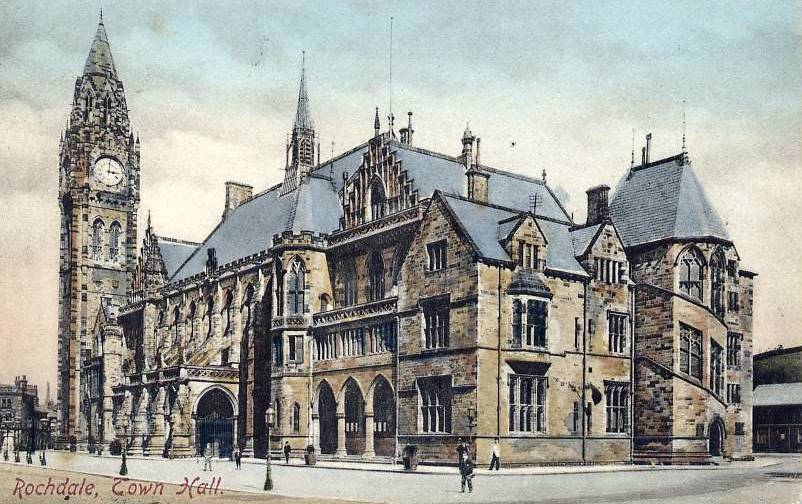 The Magna Carta mural will go on display once again
Restoration of the Great Hall's ceiling panels to their former glory
Restoration of the Mayor's Parlour and other historic rooms around the building
New areas to open to the public include the Old Library becoming a "bright room". This will have community and business functions for hire
A new exhibition on the ground floor to highlight the history of Rochdale and its people
But also to use the communal space for the 21st century:
New facilities will include a community engagement hub
Celebrating Rochdale's history
Inclusion and diversity measures
But the money to refurbish Rochdale Town Hall won't just go on refurbishments. With it, the council will invest in local skills and education. Some money has been set aside for training volunteers, and for professional skills like antique furniture restoration and stained glass windows.